Item

Content

Type
Medium Sulfur Crude Oil
Code
SC
Unit

1000 barrels / lot

Quotation
Yuan (RMB) / Barrel
Mini Price Fluctuation

0.1 Yuan (RMB)

/ Barrel
Daily Price Limit
≦ previous daily settlement

±5%

Listed Contract
Within 36 months
First 12 consecutive months Quarterly months afterward
Trading Hours
9:00 am - 11:30 am,1:30 pm - 3:00 pm
21:00 pm - 02:00 am
(or others specified by INE)
Last trading Day
Last trading day of contract month before the settlement month
(INE has the right to adjust according to national holidays)
Delivery Period
5 consecutive days after the last trading day
Quality Specifications
Medium Sulfur Crude Oil;Standard API 32,Sulfur 1.5%
(or others specified by INE)
Delivery Venues
Settlement warehouses designated by INE
Minimum Margin
Contract Value

7%

(or adjusted by INE/clearing members)
Settlement Type
Physical
Q2.
Cross Market Comparison
(一)Contract Size
The same with the 3 major crude oil futures, easy for trading.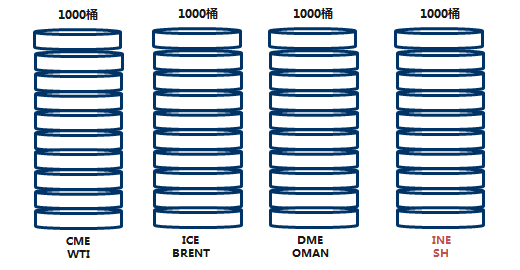 (二)Trading Hours
INE trading hours is planned for day time currently。Not yet follow the 3 major crude oil futures to cover the whole day trading.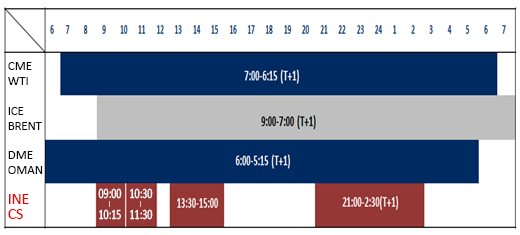 Note:The above is Beijing Time, American Daylight Time is one hour earlier
(三)Others
Pricing: INE oil futures is priced in RMB while the other 3 major oil futures are priced in USD.
Settlement: ICE Brent is in cash settlement while INE SC and the other 2 major oil futures are in physical settlement.
Last Trading Day: For the same expiry contract month, INE SC is the last one to expire.
Ex:2017 Sep contract expiry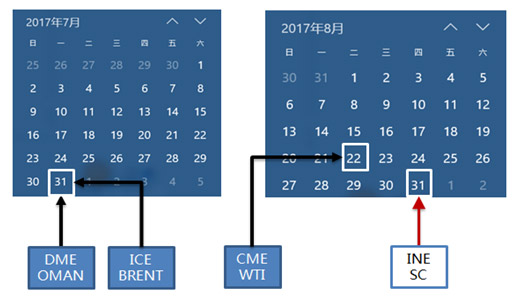 Margining: INE SC is on percentage of contract value (5% ruled by INE) ,the other 3 major oil futures are on fix margining published by the respective exchanges.